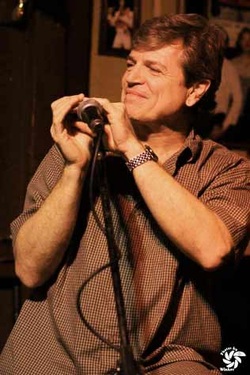 Jimmy Ruggiere: Singer-Songwriter, Vocalist, Harmonica Player, Fiddler & Guitarist

With the release of "Nicer Guy", his first full-length, self-penned album, Jimmy Ruggiere continues to establish himself as both performer and songwriter. Under the direction of Chris Gage, producer/engineer/musician extraordinaire at his MoonHouse Studio in Austin, these ten original, "slice of life" songs import a fresh, yet occasionally retro energy to a classic genre.

An accomplished harmonica player, singer/ songwriter, and fledgling fiddler, his first solo moment came as a singing shepherd in a Christmas pageant in the second grade. Never losing the theater bug entirely, he performed leading roles in many theatrical productions in the years to follow, including Will Parker in "Oklahoma!", Fagin in "Oliver", and the Tin Man in "Wizard of Oz".

After years of working both solo and with numerous bands of various styles, Jimmy met up with young Georgia singer/songwriter Travis Tritt in the spring of 1987. By summertime, Jimmy had become a regular part of the act, singing backup and blowin' the harp. His harmonica quickly became an integral part of the Tritt "sound", as well as a key member of Country Club, one of country music's hottest bands.

In 1998, Jimmy left Nashville and the band to focus on his writing, and to study Rolfing Structural Integration in Boulder, Colorado. (Rolfing is an alternative method of hands-on, fascia oriented therapy which he continues to practice in Austin on a ltd. basis.)

Continuing the music career through to the present day, he currently works with a who's who of
the area's top-flight musicians both on stage and in the studio in Austin and Central Texas.

---